Testimonials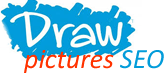 Janet Gregg from Blue Apple Spain :
We are an online branding, reputation management agency in Madrid Spain with offices in UK and America, we often outsource our seo and link building campaigns to this company and they always do the best job, No doubt about it!
Nicholas Edward from Gambling Direct Europe :
We are an online marketing company based in Amsterdam Holland with offices in and around Europe and we closely work with Europe's leading Gambling companies, We know Robert for around 8 years now and he has implemented great seo strategies in order to make our top competitive keywords rank on 1st page of Google! Great guy, very honest, punctual when it comes to turnaround time and other than just that, they are fun people in real life! He is not just a service provider, he is a family now!
Nadia Khan from Asian Clothing Company UK :
Draw Pictures Ltd has done a great piece of work, we are truly very happy with our online shop, we have learnt many things from this company and they even taught us how landing pages can help our website sell more products online! They have provided what they promised, good people with good support and price!
Maria B from Maria B Pakistani Clothing Company UK :
Draw Pictures Ltd team of web designers and web developers has worked hard to help our world' renowned brand build its identity in Brighton and even across the UK, Today when Maria B Clothing Company is growing in the UK and whole Europe, It's credit also goes to Draw Pictures team! Good job, easy website for our customers online, and for our in house team that always updates the website! Thank you for helping our brand grow!