Testimonials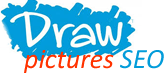 Peter Hudson from Online Games Development Netherlands :
These guys are amazing, always listen, work tirelessly and are great people in real life; I have loved working with these people, the best ones in Search engine marketing business!
Dr Shawn Mathews from Dental Care Australia :
I was never happy as I am now after hiring Draw Pictures Ltd, they have done a wonderful job when it comes to increasing the traffic, sales and conversion via our website, they have worked very closely with our in house team and has implemented strategies which we never take care of! Thank you Robert, you and your team are the best in online advertising and marketing industry!
George Peterson from Buy All Online Canada :
We have hired several web development companies in the past for our group of companies, but this one was the best ever! Other than just planning and strategy, they have introduced SEO Services and we have already known how impressive this SEO thing can be for your online business, Good work! A+
Sonya Hilton from Beauty Shop USA :
Pretty website, easy to use admin panel functions and features and Google free, good website development work for tight budget I had.
Chris from SEO Studio Australia :
We are a search optimisation company in Sydney Australia and we trust Draw Pictures Ltd for all our, seo, link building, web design and web development outsourcing! They are one of the best guys on planet who never let you down, be it on commitments, pricing and awesome services! I recommend their services to other seo companies looking for an honest service provider!