Testimonials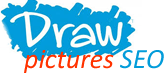 Daniel Roberts from Iphone Applications :
We are definitely very happy with their link building techniques; we are on Google Page #1 for several keywords and phrases. Draw Pictures were the best choice for us! Thank you Robert! I appreciate your personal efforts and hard work, more work your way soon!
Stuart from Minibus Hire Ireland :
Draw Pictures Ltd, Link building & SEO service has ranked the world's most difficult combination of keywords for us so that we are now on Page #1! Amazing people in SEO industry, simply one of the best link building agency in the world!
Lucy from Quality Clothes :
Since we started using your Internet Marketing service, we are getting many more inquiries from potential customers all the time and our website is receiving more business than ever before! Draw Pictures Ltd team has done a great job which Chinese SEO Companies cannot do! Thanks a lot once again and we will continue working together!
Wayne Hill from Airport Transfers Europe :
Other search engine marketing companies we hired before promised a lot but never met our expectations! – You guys actually did - As promised we are starting our campaign with you by 28th June 2015. Cheers!
Nicole from Kitchen Store Birmingham :
"Thanks for the information, honest advice and great PPC campaign management ever, the snow removal is working great, we are seeing countless inquiries each day and getting new business. Everything is good."