Testimonials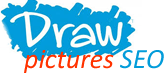 Jeremy Hunt from Real Estate Brokers :
All our business comes from online referrals and the business generated has doubled, week after week since we hired your Pay per click and SEO Services. Our management is very happy about it and we are wishing to work with you for and on long term basis! Great powerful work!
Qamar from Genius Firm :
It's hard to explain how much of a help you were in creating our website. You are true professionals and we couldn't have done it without you. You guys has really provided us with an seo friendly web design, good service, great prices and lovely support which I enjoyed the most. Thank you.
Paul Butler from Real Estate Asia :
Draw Pictures has provided us with an amazing website design and development service, that is very User and Search engines friendly – I am pleased to say, they are passionate about what they are doing and always putting in as few extra miles for free – We are seriously impressed!
Gareth White from Textile Exports Worldwide USA :
Most of our customers simply love the way you guys have designed and developed our shopping platform, your strategies have helped us get one of the best shopping websites in town. I am not an IT Person, but must say, your Internet Marketing Service has made us really popular across the globe and we are getting so much business via this SEO Techniques you have implemented, Thank you!
Roxana from Watch Shop Switzerland :
After working with several internet marketing companies from Germany and Switzerland, we have been in contact with Draw Pictures Ltd, they have not just answered all our questions, but has also helped with free internet marketing consultancy, with their powerful internet and search marketing services we are selling way more than we ever did online. Recommended Agency!